Fishbiotic - Ciprofloxacin - 500mg (30 Count). No prescription required.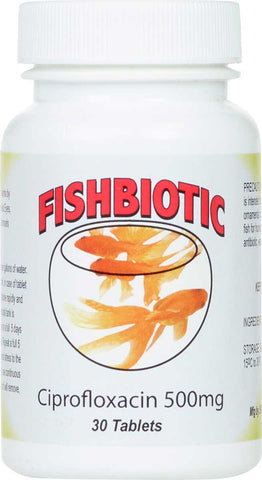 Fishbiotic Ciprofloxacin
Ciprofloxacin is a synthetic broad spectrum antibiotic that is effective against gram-negative and some gram-positive bacterial pathogens of fish.

Each contains:
Ciprofloxacin.....................500 mg

Directions: Pre-dissolve one tablet (500 mg) in two gallons of water prior to adding to a hospital tank. Immerse for one hour. Repeat every day for 5-7 days with daily water changes after each treatment.

Caution: For aquarium and ornamental fish only. Not for human use. Keep out of the reach of children. Keep container tightly closed and in a cool dry place. Not to be given to fish intended for food use.
No Prescription Required.